ProForce is the only talent consulting firm of it's kind. We employ a proprietary methodology to empower organizations to Attract, Engage and Retain High Performing Talent – Anytime, Anywhere.
And we're the best in the world at it.
We Begin with "Why?"
The Market is Shifting to a Talent Attraction Model
ProForce is responding to the increasing transformation in the Talent Acquisition space. Three years ago, the title "Employer Brand Manager" did not exist.
Today, major brands across the world are engaging marketing and communications professionals to take control of their Employer Branding, Employer Reputation and Candidate Communications.
The adoption rate is following a typical S-Curve model with Early Adopters realizing a significant competitive advantage over their peers who are still recruiting the same way recruiting has been conducted for the past 30 years.
However, it is the major brands that are driving and benefiting from this transformational paradigm shift. Up to 90% of small to mid-market companies do not have the internal expertise and have not begun to make this critical shift from Talent Recruiting to Talent Attraction. The consequences are significant and harmful to small to mid-market companies who are by comparison unable to compete at the same level for talent.
See More: Crossing the Chasm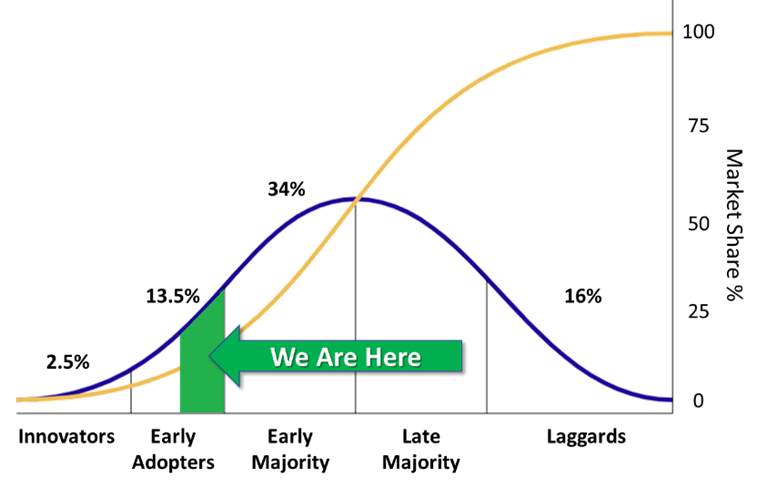 Our Commitment to Serve Has Just Begun…
Client Case Study of the Month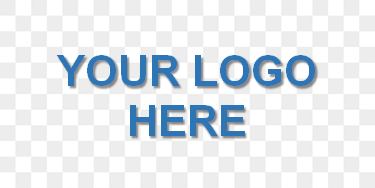 Industry Leader Demonstrates Leadership
THE CHALLENGE
The company was successfully recruiting but with noticeably increasing cost and decreasing efficiency. Some positions were filled with well-qualified – but NOT Highly Qualified – candidates.
THE SOLUTION
Executive leadership became the sponsor of a critical initiative to bring ProForce in to work with Marketing, Human Resources, Talent Acquisition and the Website Development Team.
THE RESULT
The new model and enhanced communication now supports both recruiting High Performance talent while reducing ops costs and business development goals consistent with the organization's core values, mission and purpose.
Our Core Values Create Our Culture
Core Values
Our Core Values are the characteristics which are critical to our culture, our actions and our commitments.
Each of our Core Values support our commitment to:
Customer Value
Best People
Servant Leadership
Customer Value – What it Means to Us
We have a Culture where our Customer,
 Is recognized as having an important mission to achieve,

Is empowered to succeed now and in the future,

Is considered a partner where our joint efforts are to deliver value to Their Business, Their Employees and Their Customers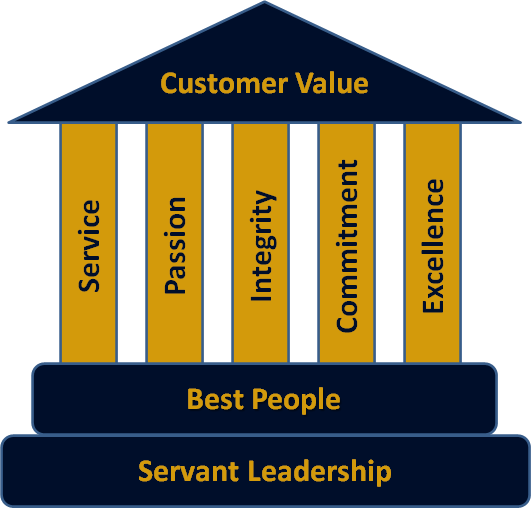 Best People – What it Means to Us
We have a Culture where Team Members,
Relentlessly and aggressively pursue excellence

Are committed to taking care of the Customer

Take ownership of both issues and solutions
Servant Leadership – What it Means to Us
We have a Culture where Leaders,
Demonstrate appreciation for the people who actually perform the client-facing work

Develop a hatred for the status quo because of a conviction that it can be better

Understand that the process fails far more frequently than the people do

Willingly and openly admit that the system is broken and needs to be fixed
Let US
TELL

SHOW YOU


CONTACT US
Please use the form below to contact us. We're prompt. We'll reply soon.