Critical Human Capital Support Services to
Thrive During the COVID-19 Pandemic
Employer Branding and Communication
Reputation Management
At no time in history has any organization every had to put more attention on their public employer persona because never before in history has so much public information ever been available to job seekers.
How your organization shows up as an employer over the coming months will make a huge difference – bad or good – for a long, long time.
Employer Brand Reinforcement
How an organization chooses to respond to the COVID-19 pandemic will be a huge missed opportunity and will reinforce an existing negative Employer Brand…OR…it will be a powerful way for an organization to demonstrate its care and concern for its flock, dramatically enhancing the public perception of the business as an Employer of Choice.
Communication Support
Three Reasons to Communicate to Your Employees About Coronavirus
Reason #1.  Demonstrate Care
Reason #2.  Eliminate Speculation
Reason #3.  Build Reassurance
Essential Components of Your Communication Strategy
Employer Brand Management Strategy and Development

COVID-19 Employee Messaging/Branding

COVID-19 Incident Response – Customer Messaging

Business-specific Stakeholder Messaging
Let us show you how to leverage Employer Branding and communication best practices to build the trust and loyalty of your team.

READ THE FULL ARTICLE HERE:
COVID-19 Coronavirus: Employee Communication & Your Employer Brand

SCHEDULE a Strategy Breakthrough Conversation With Us NOW
How companies respond to coronavirus will define their 'brand for decades': Mark Cuban
Now, Mark Cuban, Dallas Mavericks owner and entrepreneur, is publicly coming out and saying the same thing.

 Listen to the interview with Mark Cuban here:
How companies respond to coronavirus will define their 'brand for decades'

Need more information?
Our most popular webinar is now online and explains what the most successful companies are doing to create a powerful Employer Brand and attract talent in any industry.

Continuity of Operations Planning (COOP)
What is a Continuity of Operations Plan?
A Continuity of Operations Plan (COOP) is a documented framework describing how an organization will perform essential operations during a disaster incident or long-term disruption. The plan identifies mission-critical functions, communication methods and alternate operating alternatives.
Why is a Continuity of Operations Plan important?
Creates road map for business survival in response to emergencies

Creates model for incident severity assessment and response

Establishes approved internal operational policy and guidance

Provides framework for alerting and notifying employees

Creates preparedness for situations when timeliness is critical

Ensures clarity of thought in planning prior to an emergency

Often required by major customers

 in Master Services Agreements

Fosters peace of mind due to advanced preparedness

Disproportionately more important for SMBs
Incident Response Planning
When a disaster or other incident disrupts or threatens to disrupt operations, an Incident Response Plan is immediately required. This is specific to the business, the geography and the type of disaster incident. In the case of the COVID-19 pandemic, the most significant impact is on human capital availability which threatens capacity and continuity of operations. That's why as a talent strategy and consulting firm we have been so involved in helping clients navigate the current risks.

SCHEDULE a Strategy Breakthrough Conversation With Us NOW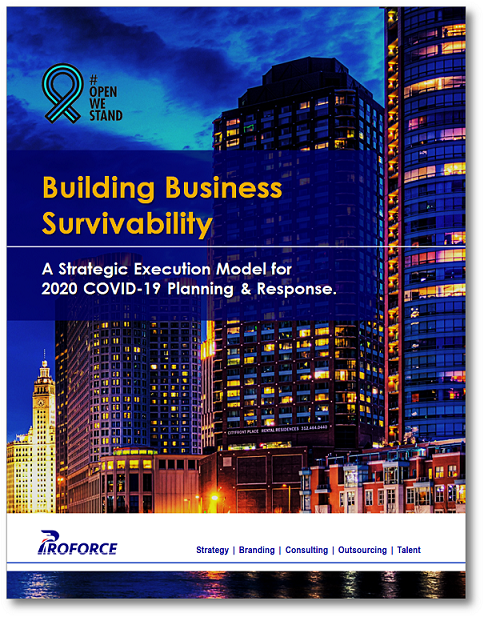 Strategic Continuity of Operations Planning (SCOOP)
What is a Strategic Continuity of Operations Plan?
A Continuity of Operations Plan (COOP) is focused on how an organization WILL MAINTAIN EXISTING OPERATIONS to survive.
A Strategic Continuity of Operations Plan (SCOOP) is focused on how an organization CAN LEVERAGE EXISTING CAPABILITIES to thrive.
Think Pivot.
Your business likely has a lot of underutilized capability, intellectual capital and resources. A Strategic Continuity of Operations Plan will create Revenue Diversification by identifying, rating and ranking additional ideas to monitize your existing underutilized resources, for example,
Alternative methods of promoting and delivering existing products
Alternative strategies of creating and delivering new products
Ways to adjust your offer and prices to stabilize your sales
How to minimize risk by creating multiple income streams
Ways to monitize existing intellectual capital
Because we have worked with so many types of organizations in dozens of industries, we're able to see past your team's blind spots to identify critically important opportunities.

SCHEDULE a Strategy Breakthrough Conversation With Us NOW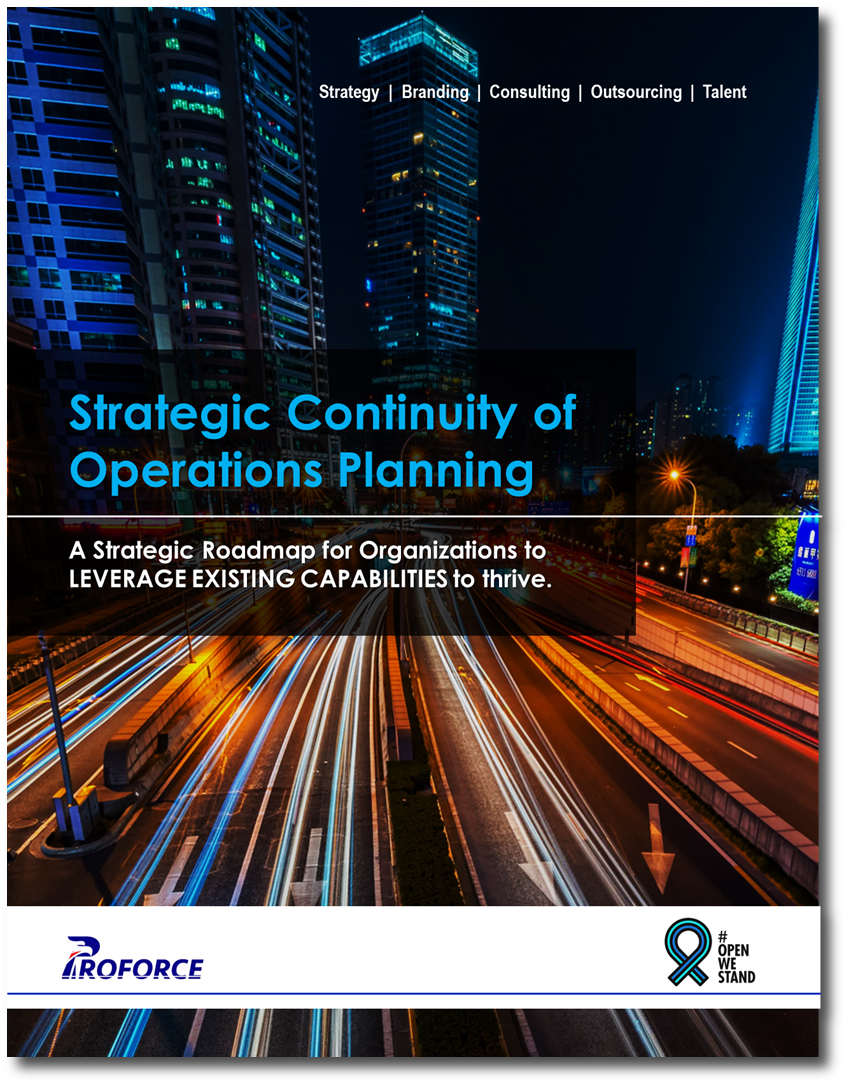 Delivery Driver Recruiting
Drivers for Critical Business Delivery Operations
We are continuing to recruit and provide drivers for various roles. We have thousands of active and passive Class C, CDL Class B and CDL Class A driver candidates in our database as a result of driver recruiting for years in various markets.
Our recruiting model has the capability to find additional drivers in any market to support the immediate identification and addition of Full-Time, Part-Time or 1099 Contractor drivers to support delivery operations.
We understand that small local businesses are in survival mode while large corporations with multiple operating locations are hiring hundreds of drivers. Let us know your local requirements – even if you only need a couple part-time drivers – and we can customize an efficient and cost-effective recruiting support strategy – as simple as turning over to you a list of experienced drivers ready to work now!

SCHEDULE a Strategy Breakthrough Conversation With Us NOW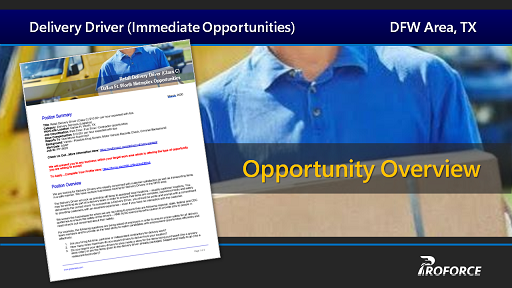 ABOVE: Example of Driver Recruiting Campaign in the Dallas Ft. Worth, Texas area.
All driver candidates complete a detailed Driver Profile with questions about prior work history, eligibility, location and willingness to accept Full-Time, Part-Time or 1099 Contractor opportunities.
Human Resources Outsourcing Options
HR Operations was challenging enough…
But now, it can be overwhelming.
We have experience with multiple types of Human Resource Management models, including,
Retained Internal Human Resource Management

Human Resources Outsourcing

Administrative Services Organization (ASO) Outsourcing

Professional Employer Organization

Partial 

Third Party HR Component Outsourcing

Talent as a Service

Outsourced Sourcing and/or Recruiting
Recruiting as a Service
And others
As a result, we can provide insights and alternatives to relieve pressure created by challenges related to performance, recruiting, cost of operations, compliance, etc.
COVID-19 has driven many HR teams to the edge pushing some executive leaders to now consider operating alternatives. Since so many organizations today thrive on Virtual, Outsourced Component and other non-traditional talent models…it might be time to consider the options. We're happy to help.

SCHEDULE a Strategy Breakthrough Conversation With Us NOW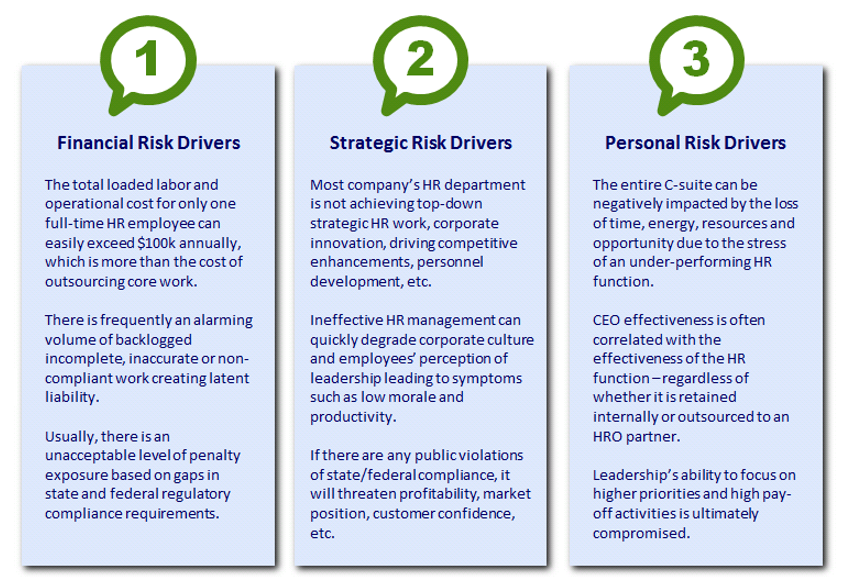 The Business Case for Human Resources Outsourcing
HR Outsourcing ultimately empowers enterprises to focus key resources and energy on core competencies and capabilities which are key enablers of market competitiveness and differentiation – and now more than ever, critical to business enterprise surviavability. But regardless of the benefits, the key drivers usually include Financial Risk, Strategic Risk and Personal Risk.
Show Your Support
Strong businesses are committed to their Customers.
Strong businesses are committed to their Employees.
Strong businesses are committed to their Purpose.
The icons on the right are making their way to many places to show the support and resolve business are demonstrating during this challenging period.
#OpenWeStand – Medium White

#FaithOverFear – Large White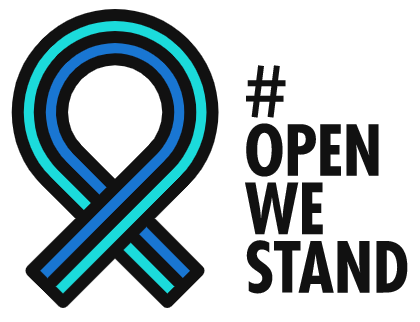 #OpenWeStand – Large Transparent